By The Greater Bakersfield Chamber
The holiday season is upon us, and this year shoppers will face increased costs for nearly everything. Rising interest rates and persistent inflation are fueling a new level of uncertainty, recession seems imminent. We spoke to our Chamber members and heard loud and clear that small businesses need our support more than ever as they navigate, reestablish and pivot from the effects of the COVID-19 pandemic.
Small Business Saturday is an annual event held the Saturday after Thanksgiving. The goal of Small Business Saturday is to encourage shoppers to support small, locally-owned businesses. This year, the Chamber is encouraging our community to celebrate and support our local businesses and everything they do to help our community on Small Business Saturday, November 26.
Bakersfield's locally-owned businesses are the backbone of our economy. They work tirelessly to provide unique services and products, and they are consistently the first ones to step up and give back to our community.
With that said, we know that every dollar you spend feels different this year. Inflation is real, and, if you're like most people, you need ways to cut costs and save money. You can increase the impact of every dollar you spend and support a better Bakersfield by choosing to shop local.
The benefits are tremendous when supporting locally run businesses. One of the many reasons to shop locally from places like Sandstone Goods + Trading is the increasing cost and frustration of managing online returns.
Rik Samoylenko, the owner and creative mastermind behind Sandstone Goods + Trading knows the importance of the in-person shopping experience. He decided to open his brick-and-mortar store while many large retail chains were closing stores across the country.
Inside his store, you can find one-of-a-kind products and make purchases with a specific person in mind. You probably won't need to include a gift receipt or make a return.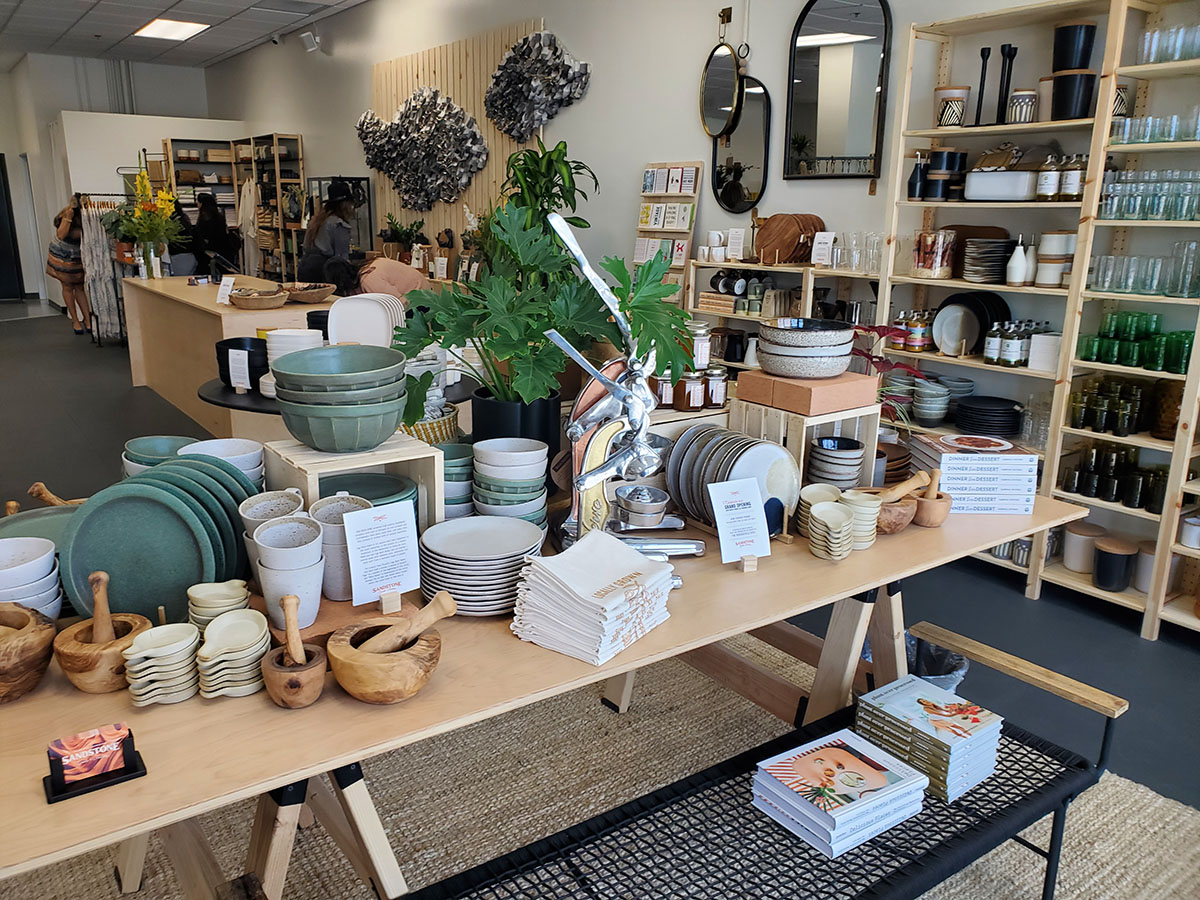 "There's a difference between actually being able to see or touch what you are considering purchasing and ordering the product online and having to wait for it and then being disappointed," said Samoylenko.
"More often than not, when you order things online, you'll find that the photo doesn't match the product or it's not the right description and you've got to ship it back."
Samoylenko opened his store in June 2022 at 1403 Allen Road, Suite 100. He's proud that all of the products he carries in his store are created or produced by locally-owned small businesses.
"I would rather shop in a brick-and-mortar store and be able to support a small business or local artisan," he said.
Spending will continue this year despite it feeling like a pinch, and people can make their purchases count by shopping from small businesses. By supporting small businesses and shopping locally, we help real, genuine people who have put their passion ahead of convenience and whole-heartedly believe in the business they are running.
Many of these businesses also support local nonprofits and give back in more ways than one.
"I try to support different organizations and charities as much as possible, and it's easier for small businesses like mine to do that when people buy at our stores," said Heather Abbot, the owner of Bella, a fashion boutique in the Town & Country Center at the intersection of Coffee Rd. and Stockdale Hwy.
"For example, we just did the Fashion Show for the Wine Women and Shoes event benefiting The League of Dreams. It's easier for us to do things like that when we can sell more products in our stores. So when people support us, we're able to support our community and it becomes a full circle."
Now more than ever, we need to encourage our community, friends and family to shop small, support local businesses, and ultimately, invest their money toward a better tomorrow.
To support and celebrate our member-owned businesses, the Chamber is reactivating our Shop Local, Shop Now campaign. We're encouraging everyone to shop local this season as a way to help bolster economic vitality and support our members. You can find Chamber member-owned businesses by visiting our website www.shoplocalshopnow.com and support small businesses by visiting local events.
Beginning in December you can visit our site to read more in-depth stories about stores and businesses like Bella, Sandstone Goods + Trading and many more. You can also kick off the holiday shopping season on Black Friday with Bella at the Towne & Country Christmas tree lighting. Check our social media channels to learn more as Small Business Saturday, Nov. 26 approaches.