Three Enthusiasts Transform a Dream into a Dynamic Fitness Sanctuary that Breaks the Mold
By The Greater Bakersfield Chamber
In a world where cookie-cutter gyms are a dime a dozen, three fitness enthusiasts dared to dream bigger. Shaun Graves, Eric R. Frapwell and Tyler Sevedge embarked on a mission to revive a legendary gym experience, ultimately bringing Collective Gyms to fruition — a space that offers a dynamic haven for fitness enthusiasts seeking more than just a place to break a sweat.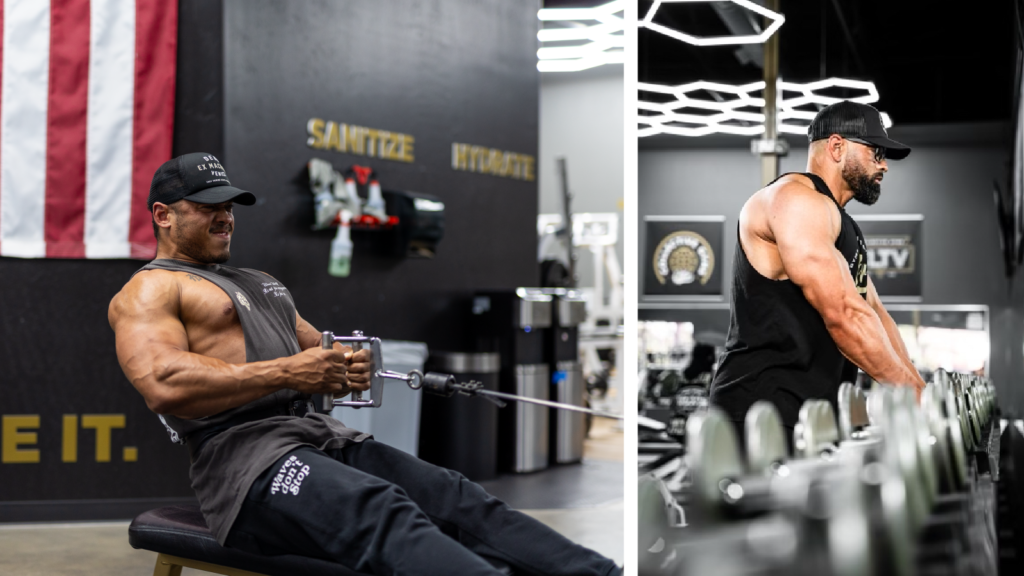 Meet the Owners: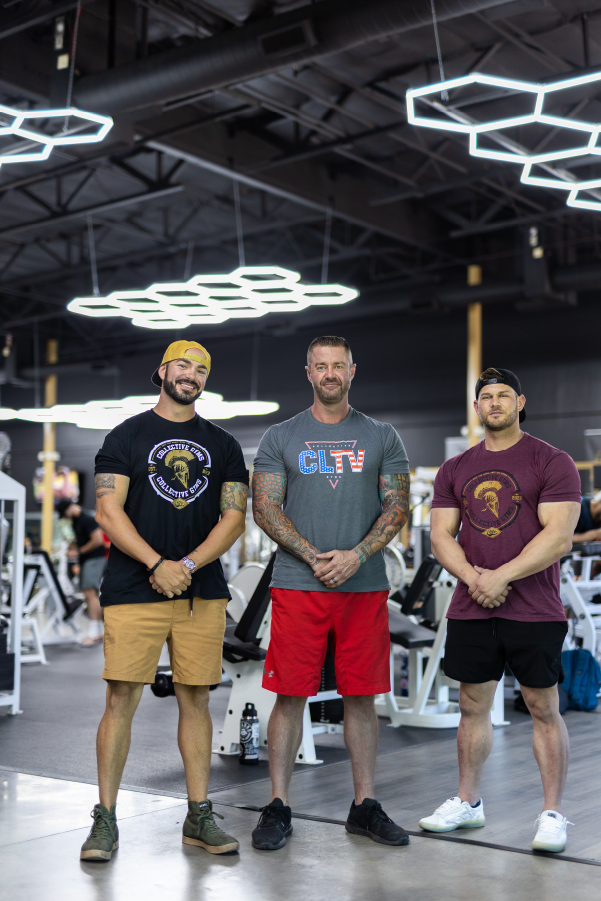 Tyler (left), the muscle and owner of Savedge Iron Company, a used and refurbished gym equipment business, is responsible for the gym's equipment curation and functionality. Armed with a deep understanding of biomechanics and decades of experience, Tyler's keen eye ensures that every piece of equipment at Collective Gyms is handpicked for optimal performance. His dedication to creating an inclusive space where individuals of all sizes and fitness levels can thrive is evident in every detail.
Shaun (middle), a former marine and expert in sports nutrition, is the financial and marketing mastermind behind Collective Gyms. He is quick to admit that defining his role within the gym is as challenging as completing an intense workout. As a jack-of-all-trades, Shaun takes pride in steering the financial ship, driving marketing initiatives and igniting the sparks of creative ideas that fuel the gym's evolution.
Eric (right), a professional trainer, adds another layer of passion. With a keen eye for aesthetics and an unwavering commitment to providing a top-notch workout experience, Eric oversees marketing strategies and the day-to-day operations of the gym. His fervor for crafting an environment that caters to bodybuilders and fitness enthusiasts alike shines through in his passionate commitment to education.
Collective Gyms' DNA is rooted in a shared commitment to solving problems and creating a fitness sanctuary that defies convention. The trio recognized the glaring gaps in traditional gyms—ill-fitting equipment, lackluster atmospheres and an absence of personal touch—and embarked on a quest to redefine the gym experience.
"We really wanted to bring back the experience and the vibe of old-school gyms," Shaun said, harking back to the days when gyms were more than just exercise centers. "They were sanctuaries where like-minded individuals gathered to get work done, support, motivate and learn from each other."
It's not just the handpicked equipment that sets hearts racing and muscles pumping. It's also the gym's embodiment of old-school camaraderie, a concept that according to the founders is disappearing in the fitness landscape.
In an era where gyms have become impersonal, Collective Gyms aims to restore the sense of community and shared purpose that once thrived within fitness spaces.
"Our journey to create a gym that embodies our ideals continues to be a labor of love," said Eric.
Every piece of equipment in Collective Gyms' space is curated from Savedge Iron Company and is handpicked with meticulous attention to detail.
"Each machine is chosen for its unique biomechanics, functionality and impact on muscle engagement," said Eric. "This curated collection ensures that each workout is not just an exercise in sweat, but an experience in muscle refinement."
While other gyms might shun the idea of allowing members to influence equipment choices, Collective Gyms thrives on member input.
"The first three months of operation were dedicated to gathering feedback and suggestions, with members actively providing feedback on the equipment," noted Tyler. "Equipment was swapped, adjusted and refined based on real-world usage and member preferences. And we'll continue to do it."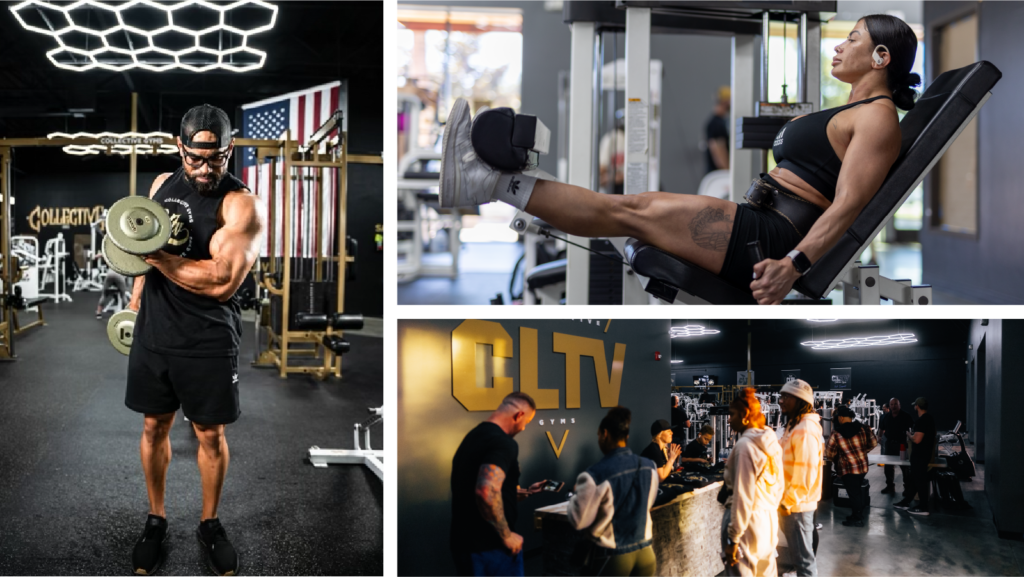 Collective Gyms is quickly becoming a destination spot for fitness enthusiasts far and wide.
"People from all over want to work out on this unique equipment," said Shaun. "We're becoming a destination gym as people learn about us from across the country. They're eager to experience the benefits of the legendary equipment we offer."
Collective Gyms' journey was marked by a leap of faith by the founders who knew they were a collective force that when united they could make the business a true success.
"With more than 552 members signing up before our doors even opened for business the community's belief in our vision was evident," said Tyler.
"We had 178 people sign up in one night," added Tyler, recalling the unprecedented surge of interest during a preview event.
"There was a lot of anticipation that fueled the collective energy surrounding the gym's grand opening," said Tyler. "We offered an enticing founding rate, a gesture of appreciation to those who had placed their faith in the gym before we even welcomed our first member. This dynamic pricing strategy not only helped us build a strong founding member base but also set the tone for a culture based on trust and mutual support."
Collective Gyms's story is not just one of fitness but of brotherhood, growth and the unwavering belief that a community driven by shared values can transform lives.
"It's more than just a gym; it's a testament to the collective spirit that thrives when like-minded individuals come together in pursuit of a common goal," said Shaun.
It's a melting pot of diverse individuals brought together by a common goal. Shaun emphasized the importance of the gym's atmosphere, explaining, "It's the atmosphere and the weights. It's metal on metal plates that sound and do nothing more than motivate an individual."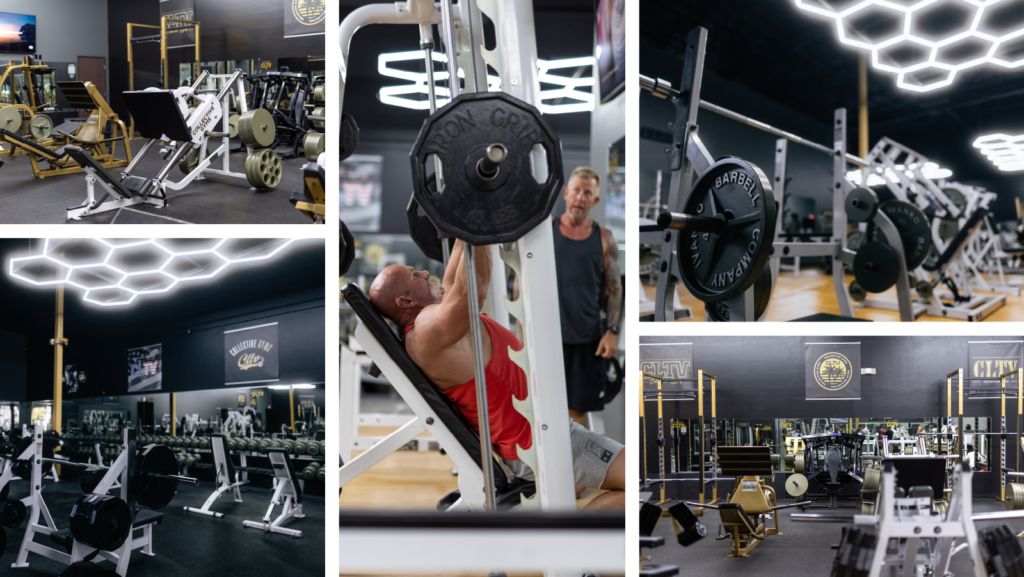 Beyond the weights and sets, Collective Gyms is a reflection of its founders' commitment to rekindling the spirit of a close-knit community. As Shaun aptly describes, "Community is family."
The gym has become a haven for individuals seeking more than just physical transformation – it's a place where they forge connections, seek guidance and embark on journeys of self-improvement.
"We're not just here to make money. We're here to make a difference," said Eric. '"We want individuals who are genuinely committed to their health and well-being. That's why we'll eventually have to cap our memberships."
As Tyler pointed out, "Fitness is just the beginning. It's about fostering a mindset of continuous improvement. When someone achieves their fitness goals, it often spills over into other aspects of their life – their relationships, their work and their overall sense of purpose."
Collective Gyms isn't just a place to work out; it's a community where diverse individuals come together to support each other.
"We're hosting events, collaborating with the Police Department and inviting outside vendors to contribute. Our doors are open to everyone who wants to experience what we offer," added Shaun.
As Bakersfield continues to evolve, Collective Gyms continues to solve problems faced by fitness enthusiasts. With each person who walks through its doors, the gym becomes a catalyst for change, proving that a healthy community is built on more than just exercise. They shine as an example of what's possible when individuals with a shared vision work tirelessly to create a space that transforms lives and strengthens the community.
---
Interested in learning more?
The gym's membership options cater to various needs. The Day Pass allows visitors to experience the state-of-the-art facility and enjoy a fulfilling workout for just $20. It's ideal for those passing through town, seeking a one-day fitness boost, or exploring before committing to a monthly membership.
For those looking for a more comprehensive experience, the Unlimited Plan provides 24/7 access to the gym for $59.99 per month.
Visit www.cltvgyms.com or follow them on Instagram (@cltvgyms). Watch and subscribe to their YouTube for a new video series called Collective Gyms Raw, created to tell stories about their members and bring the community closer together.