From Grocery Aisles to a Game-Changing Collaboration: Jess Druey's Journey to Reshape the Wine Industry with the McBride Sisters.
By The Greater Bakersfield Chamber
Meet 26-year-old entrepreneur Jess Druey, proudly born and raised in Bakersfield. She was working at Red Bull and living in Los Angeles when COVID-19 struck. While sheltering in place, Jess had an epiphany — the wine industry seemed to have, in her words, "an old people problem."
With restaurants shut down, she found herself adrift in a sea of grocery store wines looking for the perfect bottle to enjoy for a first date. She was intimidated by the shelves covered in unpronounceable labels.
It was then that Jess quickly realized that the mysterious world of wine was in need of a major refresh and a brand that better suited the needs of her generation; one that makes wine relevant to their lifestyles.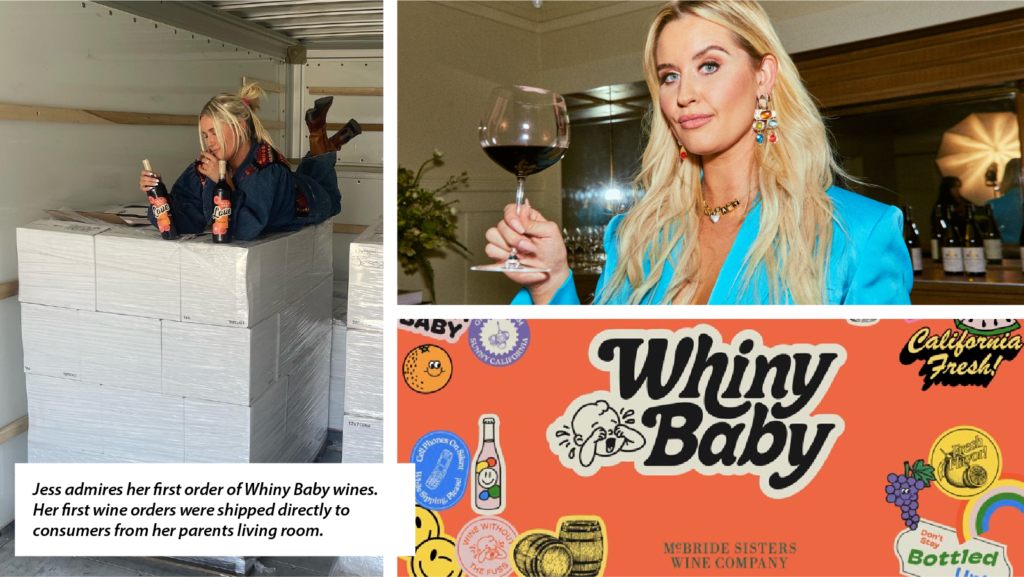 So, Jess moved home and began to pursue her newfound dream of owning her own wine company.
"I'm reconnecting to my agricultural roots, and I'm taking my community with me," she said.
Jess hopes to help solve a problem for her generation by easing social anxiety through her new wine company, Whiny Baby.
"The playful name Whiny Baby pokes fun at Gen Z's 'whiny' reputation while celebrating their ability to openly express themselves unlike any other generation," she noted.
The bottle labels encourage those who enjoy, to engage, and indulge in conversation over a glass.
"Whiny Baby isn't only focused on selling wine, we want to cultivate community, both online and offline," said Jess. "Whiny Baby's spirit is to bring people together, no matter their age or background. It's about those shared experiences, enjoying a glass of wine after a long day."
For Jess and her brand, it's all about "Connection-Based Consumption." Whether it's connecting with oneself or with others, connection she says, is at the heartbeat of Whiny Baby. The brand's mission is to spark moments that ignite conversations and foster friendships.
"I recall wondering to myself, with wine being such a powerful tool, why did no brand seem to resonate with me or understand what I was looking for in my experience of consuming it?" she said. "That's why I started Whiny Baby. We believe in inclusivity, authenticity and accessibility in everything we do! Choosing a wine doesn't need to be intimidating, confusing or even hard to pronounce."
Each one of the Whiny Baby wines is ethically made from high-quality and socially responsibly produced grapes, which studies show are top concerns for Gen Z when making a purchase.
"Whiny Baby lets you focus on the fun and delicious experience of wine!" said Jess. "With authenticity and transparency at the heart of everything we do, our business operations and strategy are no different."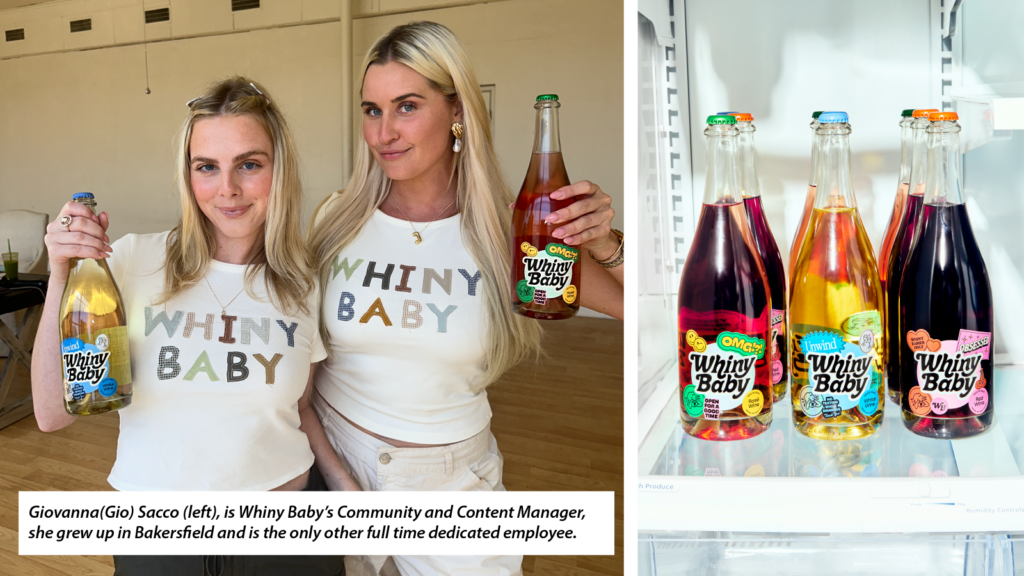 Following the success of Whiny Baby's initial online launch in 2021, it was clear to Jess that she had tapped into something truly special.
To grow her business, she knew she needed trusted partners and mentors in the wine industry who believed in Whiny Baby's mission and trusted them to continue what she had started.
However, the journey to bring Whiny Baby to life wasn't without its challenges. Jess found herself navigating the intricate world of wine for the first time.
"It's been the most gratifying years of my life, but it's been really, really hard," she said. "I don't think that people talk enough about the journey, you know, because people just see the glitz and glamor of owning a business"
Instead of taking traditional routes, Jess reached out far and wide – making calls, sending DMs and shooting out LinkedIn messages. She sought trusted partners and industry mentors who believed in the essence of Whiny Baby.
As Jess Druey was diving headfirst into the wine industry, a podcast episode featuring the story of the McBride Sisters lit a spark.
"While I was in full start-up mode, my mom nudged me to tune into the 'How I Built This' episode featuring the McBride Sisters (the largest Black Owned Winery in the United States)," she said. "I was so moved by their journey in the wine industry that I just knew I needed to connect. I was unstoppable. I pursued every avenue, from stalking to emailing, to get their attention."
Persistence, as it turns out, has its rewards. After months of pursuit, Jess secured a meeting with the sisters. The outcome?
"It went brilliantly," said Jess, "Today, we've merged our visions in a joint venture."
The pivot in Jess' journey from an inspired listener to a business partner with the McBride Sisters is the stuff of Gen Z dreams.
"It feels surreal. Here I am, partnering with a brand I once admired from afar," she said.
The collaboration underscores a shared ethos: Combining the wealth of heritage expertise with the vigor of emerging innovation. The McBride Sisters are no strangers to challenging the status quo. With a reputation for breaking industry norms and crafting exquisite wines, their partnership with Whiny Baby promises a fresh fusion of tradition and trend.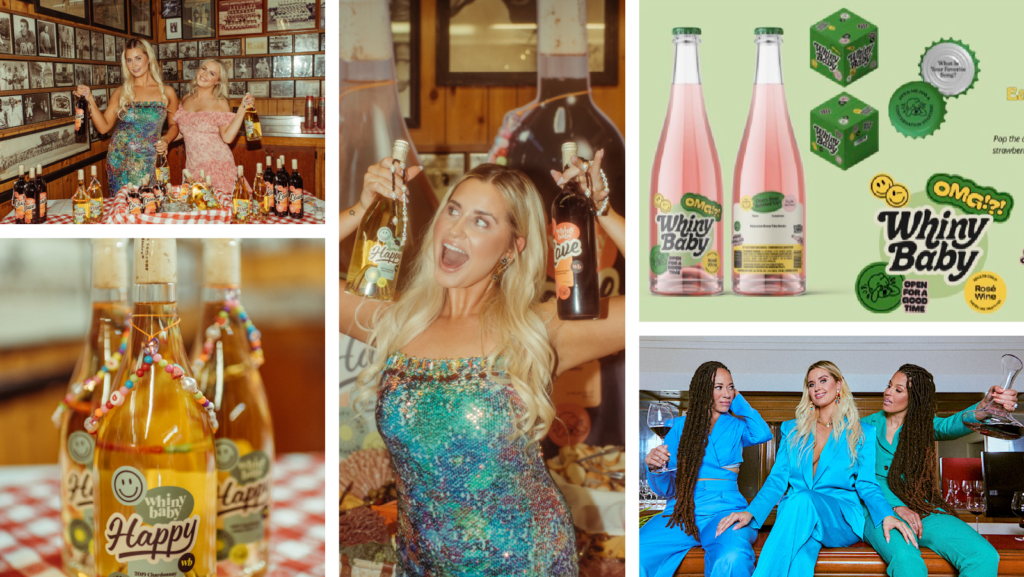 "We're on a shared mission," Jess emphasized, "transforming the wine industry, leading by example and cultivating community."
With the support of the McBride Sisters' industry acumen, business savvy and top-tier wine-making team, the future looks bright for Whiny Baby.
Andréa McBride John reflected in a press release, "Jess has followed her instincts and created a California wine brand that captures exactly what Gen Z wants from a wine brand and the overall wine experience through a vision focused on community. She's a fearless and determined entrepreneur, and we are thrilled to support her in her growth and evolution of the brand, breaking all the old-school wine rules and having too much fun along the way."
Since partnering with the McBride Sisters, Whiny Baby wines have been produced with their winemaking team and through existing partnerships. Whiny Baby is female-owned and operated by Jess and Community and Content Manager, Giovanna (Gio) Sacco. Together, they work out of their downtown Bakersfield office. Gio is fifth generation Luigi's Restaurant and Delicatessen family, where you can purchase Whiny Baby wines. If anyone wants to work with Whiny Baby through events, content, etc., they can connect with Gio at [email protected].
"Together (Jess and Gio), we're going to grow the Whiny Baby community starting here in Bakersfield and I couldn't be more excited about the journey ahead," said Jess. "We have shown that Bakersfield roots run deep and that friends can successfully work together!"
Currently, Bakersfield residents can purchase Whiny Baby wines at Sully's and Luigi's, with a target to be in grocery stores across the United States beginning in October 2023. The three Whiny Baby wines are blends of wines sourced from the finest vineyards in California with no additives known besides sulfur dioxide and minimal grape concentrate for sweetness.
---
Whiny Baby's Wine Portfolio Includes:
"Unwind" White Blend: Aromas of ripe pear, pineapple and peach bring fruit cocktail to mind, while the palate sings with a citrusy freshness. Chilled or even over ice, this wine is summer in a glass. Chenin Blanc and Viognier form the backbone of this blend, but it's the Riesling that dominates and really gives the aromatic lift Whiny Baby aimed for in this wine.

"OMG?!?" Fizzy Rosé Blend: Pop the cap on this rosé gold stunner and enjoy flavors of strawberry, nectarine, and crushed raspberry, graced with gentle bubbles and a kiss of sweetness. Led by Merlot, this wine also benefits from small additions of aromatic whites (Riesling, Muscat) that enhance the fruit aromas and flavors.

"Obsessed" Red Blend: Vibrant, with ripe red cherry and berry fruit on the nose. The wine's easy drinkability and long, satisfying finish make it delightful right off the shelf or chilled for poolside enjoyment. Using primarily Zinfandel and Merlot, Whiny Baby crafted this wine to be approachable, with minimal tannin and a crisp, fruit-forward personality.
You can learn more about Whiny Baby on their website at whinybaby.com or follow them on Instagram @whinybaby.