Sandstone Goods + Trading strives to minimize excess waste across the full path of products it carries – from manufacturing to shipping and receiving, packaging and more
By the Greater Bakersfield Chamber
Much like the late brick company it was named after, Sandstone Goods + Trading started with a vision to help make Bakersfield better. Owner Rik Samoylenko saw an opportunity to bring to town a home & lifestyle business that highlighted one-of-a-kind goods. A place that would marry his passions for doing good, art and design, and his background in retail merchandising.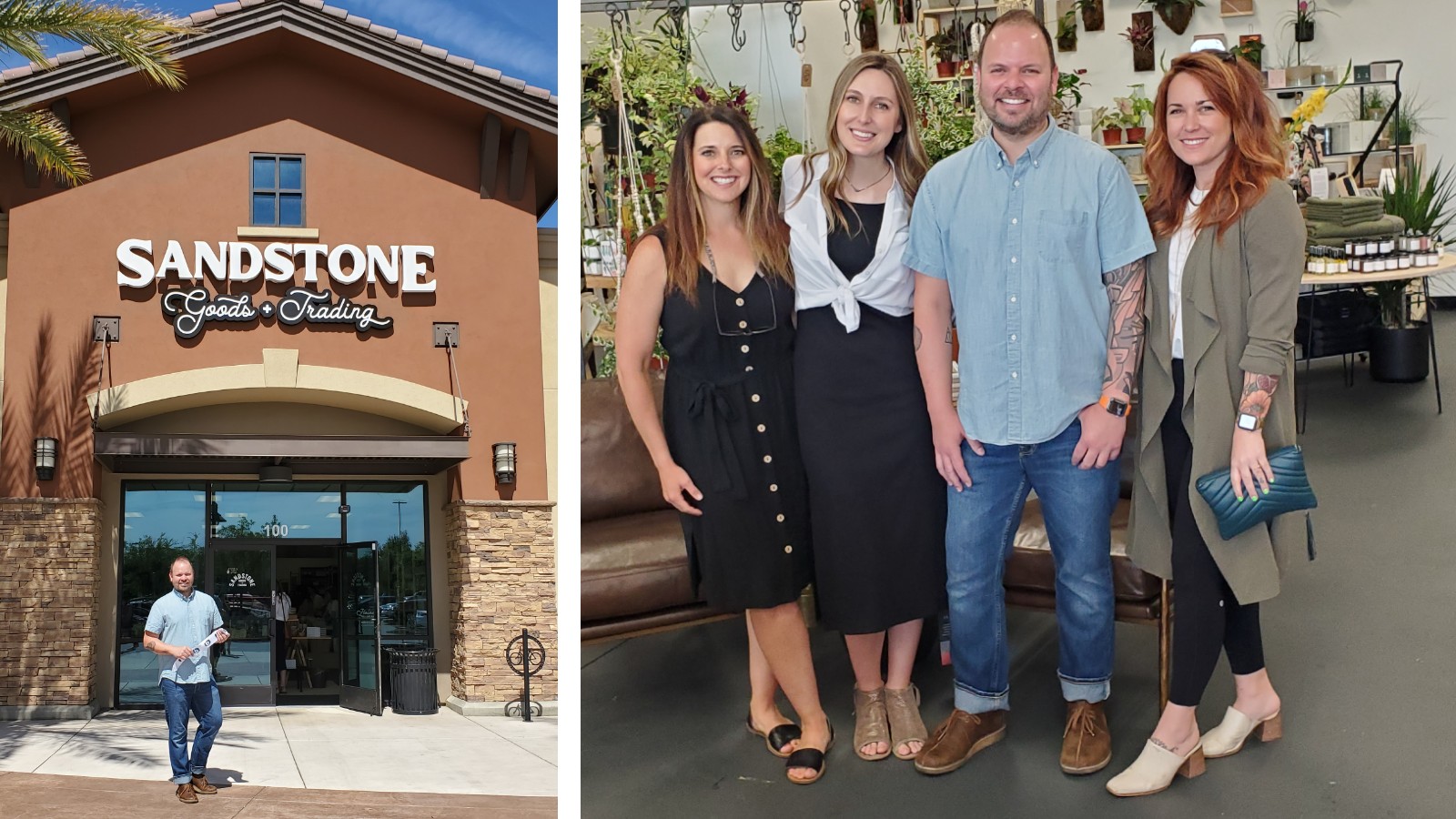 The local boutique, which opened earlier in 2022, offers hand-picked selections by Samoylenko, who chooses items made by local artisans and purveyors or those within driving distance. 
"My small business supports other small businesses from across the county and region," he said. "We try to order things in small quantities. So, while there are several brands we continue to carry and work with, once a product is gone, it's gone. You're never necessarily going to have the same exact items as your friend or your neighbor."
Samoylenko grew up in Bakersfield, moved away to pursue his career and then moved back in 2017 to invest in his community.
"I was amazed by how much growth had happened in the 20 years I'd been away," he said. "And, while we do have some boutique shops here in Bakersfield, I just don't think it's as many as we could or should have to highlight our community."
Before opening his store in 2021, he spent years working as a visual manager in large retail stores like Anthropologie, where he honed his skills in merchandising. 
Samoylenko also participated in pop-up markets around town and had the opportunity to work side-by-side with a lot of local artisans. His goal was to create a long-term space for those small-batch creators to sell their products.
"Don't get me wrong, I love them [pop-up markets] but, if you want to find a unique locally made birthday gift for somebody on a Tuesday night on your way home from work, that's typically not possible," said Samoylenko.
Sandstone Goods + Trading carries items such as clothing, home decor, plants and crystals.
They aim to be a sustainable, culturally and environmentally conscious company known for amplifying diversity and inclusion in our community through their partnerships.
"Rik worked on having a variety of products so that you can come in and touch and smell them, and you can just have these special, different experiences," said his mother Vickie Kimbrough, who has watched and helped him along the way.
"But he also was very focused on making sure that he had products that came from minority-owned and women-owned businesses to local and small businesses from other countries. His vision is even broader than what he has right now, it's just that you have to start somewhere, and this is where he's starting. He's doing pretty well. We just want to see it grow."
Kimbrough, who has a degree in business administration, helped Samoylenko from a business perspective. She led him to Cal State Bakersfield's Small Business Development Center, where he developed his business plan.
"I believe when he moved back to Bakersfield he knew he wanted to do something special here. Because there are so many people that move here from Los Angeles and other areas," said Kimbrough. "But I wanted him to realize that it's not just about having the vision. You have to know where your revenue stream is, and you have to know the demographics of your target market to have any business be successful."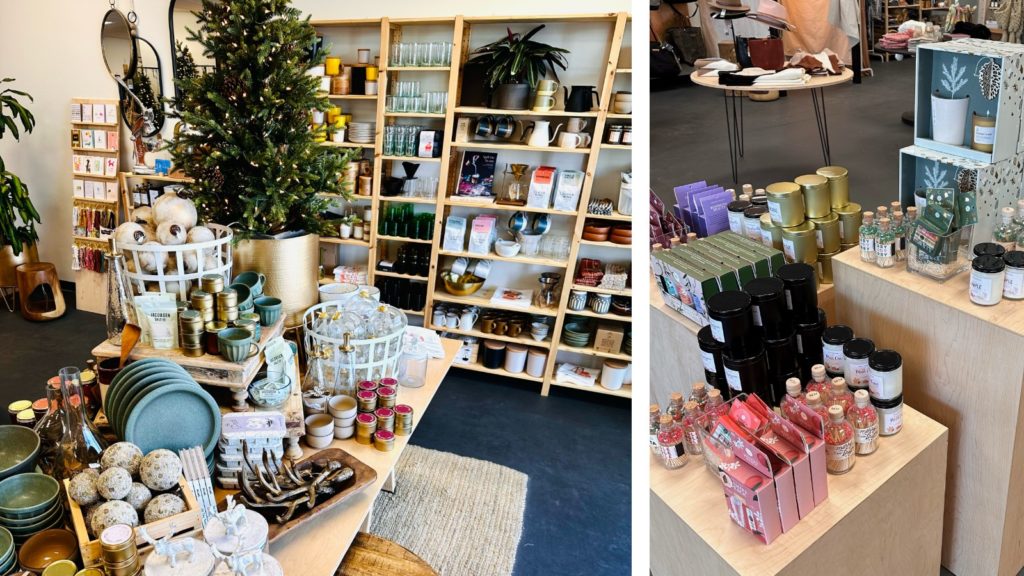 So, Samoylenko worked with the Small Business Development Center and wrote a business plan, which impressed the Center's advisers. 
"They told us it was one of the best plans they had seen in a long time," said Kimbrough. "Which made us really proud and helped us realize that, yes, the market here would be the right location for a business like this."
Samoylenko knows the value of a hands-on shopping experience and couldn't wait to make his dream a reality. Through his store he's created a lifestyle brand so well tuned, it's often mistaken by the community as a chain store.
"A lot of people have come in and asked me if I have stores in LA," he said. "I do not have any other locations, this is it for now. Just a single-person-owned company that was kind of developed with the support of my family, friends and employees."
Samoylenko's storefront has been open for just over 6 months and in business online for about two years, and things are going well.
"I've been fortunate to be supported by my community," he said. "And if customers don't already know it, when they shop locally that money is being invested into local business. The money they spend will pay the employees, maintain that business and even help nonprofits."
Spending money locally creates a holistic and sustainable environment in our home, Samoylenko noted. He feels that each of us has a social responsibility to community improvement, so along with volunteering time & resources, Sandstone Goods+Trading donates a portion of their proceeds to local organizations that directly enhance the diverse lives of Bakersfield & Kern County residents.
"Shopping locally is just better for all of us. You're even reducing your carbon footprint when you purchase items from this store since a majority of what I sell in the store doesn't travel far," said Samoylenko. "It is also so much easier to order from those companies that are producing things here in the United States and I can get it into the store in such a short amount of time because they're either local or in Southern California. It's way more sustainable globally and just for general shopping purposes."
In the future, Samoylenko hopes to diversify his space more and host workshops open for the community to explore their creativity in a great environment.
"I'm always thinking about how I can utilize my business in the best way possible to create a fun lifestyle here in town,'' he said. "You can't complain about living here if you're not trying to do something about it. There are a lot of things to do here, you just have to seek them out."
Sandstone Goods + Trading is located at 1403 Allen Rd. Suite 100, Bakersfield CA 93314 in the Artisan Square at Froehlich Ranch shopping center. They're open Monday – Saturday from 10 a.m.- 6 p.m. and Sundays from 11 a.m. – 5 p.m.
The best way to stay up to date on product deliveries and new arrivals is to sign up for their email newsletter and to follow them on Instagram.
You can find Chamber member businesses by visiting the map and directory on our homepage and support small businesses by visiting local events.