Anna Marie Frank and her team focus on "wholism" to support their clients.
By The Greater Bakersfield Chamber 
When it comes to matters that involve both the mind and body, the solutions are not always straightforward. That's why Happy Whole You, takes a holistic approach to help individuals improve their overall well-being. 
Through their products and services, Happy Whole You aims to help individuals increase brain function, improve mental clarity, decrease stress and enhance positive thinking.
Founder/Owner Anna Marie Frank, Doctor of traditional naturopathy, and her team of professionals focus on "wholism," and support each of their clients with an emphasis on the needs of their mind, body and soul.
"Matters of the mind and pains of the body and soul are often intangible," said Anna Marie. " They often can't be explained as readily as they are understood by a direct experience. That's why supporting one's well-being isn't a one size fits all approach." 
Wholism is the philosophy behind Happy Whole You and it emphasizes the whole being rather than reducing things to their individual parts. This means treating a person as a whole rather than just focusing on specific symptoms or problems in isolation.
According to Anna Marie, "Working, on the WHOLE you takes effort, but many find that it can be very rewarding. Wholism is where happiness and growth await."
In today's world, health has become more important than ever before. As people become increasingly aware of the benefits of a healthy lifestyle, they're looking for ways to take care of their bodies and minds in a holistic way. Happy Whole You is at the forefront of this movement. Their approach to wellness is all about educating and supporting their clients, so they can take control of their health and live their best lives.
"When we give our clients the knowledge and the education of how they can support themselves naturally at their home, we give them their power back," said Anna Marie. "It's all about educating and supporting our clients through education because when we know better, we can do better."
At Happy Whole You, they believe that holistic health is about more than just physical wellness. They focus on all pillars of wellness, including financial, spiritual, mental, occupational and physical wellness. By taking a holistic approach, they help people achieve balance and harmony in all areas of their lives.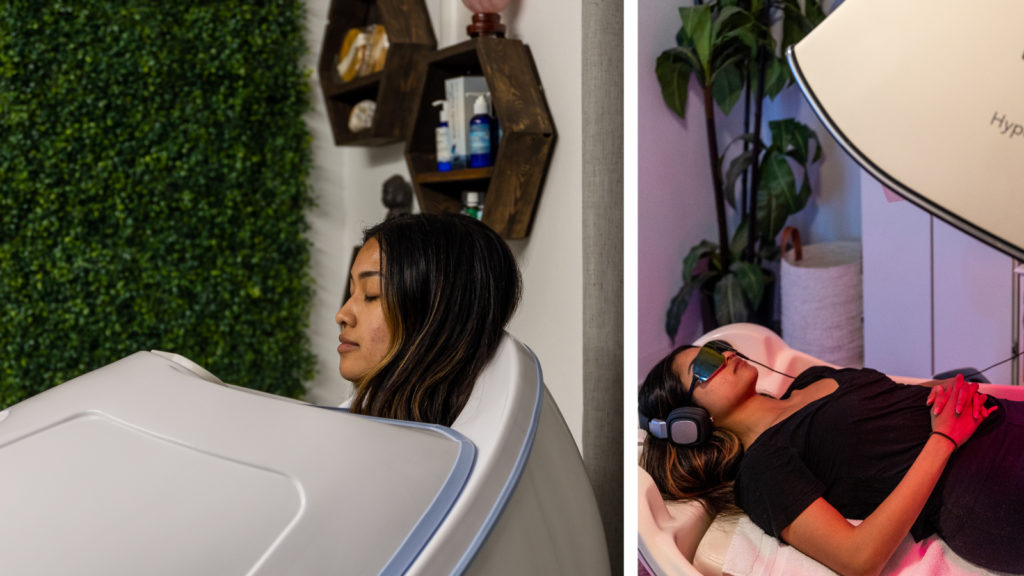 "We use some old-school Chinese medicine holistic health modalities and then we combine them with modern technologies," said Anna Marie. "I would sum up Happy Whole You as a company that focuses on three main things: increasing your brain function, decreasing body inflammation and building a strong foundation of health."
Their approach is paying off. Happy Whole You has helped countless clients improve their health and quality of life. They provide personalized care and support, which is essential for achieving lasting results.
As Anna Marie puts it, "It's never just one thing."
"Achieving true health and wellness requires a multifaceted approach," she added. "By focusing on all aspects of wellness, we're helping our community achieve balance and wholeness in their lives."
As a small business owner, Anna Marie understands the importance of community support in challenging times and what she loves the most about owning her own business is the community.
"Community support is essential to the survival of small businesses," she said. "When small businesses are supported, they can continue to provide valuable services and products to the community."
Anna Marie builds community support by expanding her network and relationships with other business owners. "It's important to remember that we're not in competition with each other; we're all working towards a common goal of serving the community."
In addition to building relationships with other business owners, Anna Marie believes in the importance of small businesses giving back to their community.
"Small businesses are often the first organizations to give back to their community," she explained. "By volunteering our time, donating our products or services, and supporting local events, we can make a real difference in the lives of the people around us."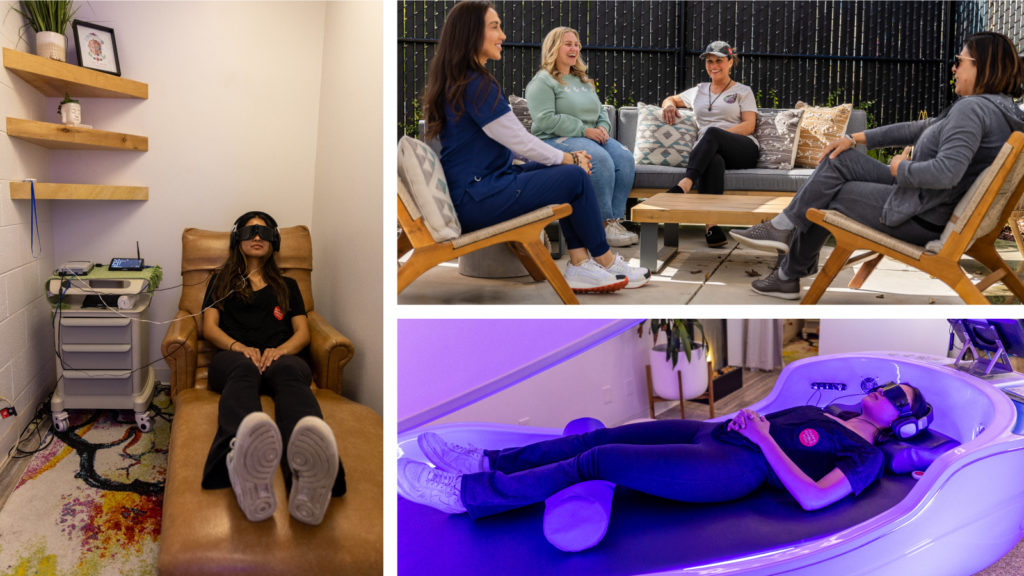 LOOKING FOR A MOTHER'S DAY GIFT?
Look no further than Happy Whole You, a holistic approach to mental and physical health! 
Enjoy from their special Mother's Day Packages:
Reset Package ($111 Members/$139 Nonmembers) Value $225

Includes:
40 minute Spinal Alignment Bed w/ O2 Facial
Biocharger Session w/ 3 Recipes

Each package includes a small gift and whole food liquid product ($75 value)
Learn more about Happy Whole You through their facebook at @happywholeyou or instagram at happywholeyou or visit their website at https://www.happywholeyou.com/ for more information.
A Deeper Dive
Happy Whole You offers a unique range of products and services to help individuals achieve optimal health. For example, the Theta Pod is one of the latest technologies available to aid in relaxation and reduce anxiousness, stress, depression and sleep issues. By pairing the Theta Pod with Inner Voice, patients can achieve even deeper levels of relaxation and healing.
"The Theta Pod is a game-changer," said Anna Marie. "The Theta Pod uses light therapy to trigger the optic nerve, while binaural beats and music are overlaid to create a deeply meditative state. That music is based on this program that we use called Inner Voice."
Inner Voice is a treatment provided, where you speak into a microphone for about 30 seconds and it analyzes the frequencies in your voice and it tells a patient their top four emotional blockages that are impacting different organ systems in their bodies and identifies the sound frequencies they can listen to help resolve the issue.
The combination of four different elements, including Cranial Electrotherapy Stimulation (CES), Binaural Audio Beats and Visual Pattern Light Stimulation, provides positive outcomes and improves mental well-being for patients as well.
"We work on increasing brain function and decreasing body inflammation, and building a strong foundation of health," said Anna Marie. "When you take care of these three things, you can take care of a whole host of things that ail you."
CES has been shown to help eliminate unhealthy thinking patterns, and symptoms of anxiety, depression and PTSD. Binaural Audio Beats, played through headphones, help the brain enter a theta state of mind, resulting in synchronized brain waves and neural pathways.
Visual Pattern Light Stimulation increases the rate at which the brain enters the theta state and the combination of the light patterns and sound rhythms influences brain and neural activity. The theta state refers to a state of consciousness that falls between the waking and sleeping states. It is associated with a deep state of relaxation, meditation, creativity and heightened suggestibility.
Happy Whole You's "wholistic" approach to health and well-being is a reminder that taking care of one's self requires attention to the whole person, not just one aspect.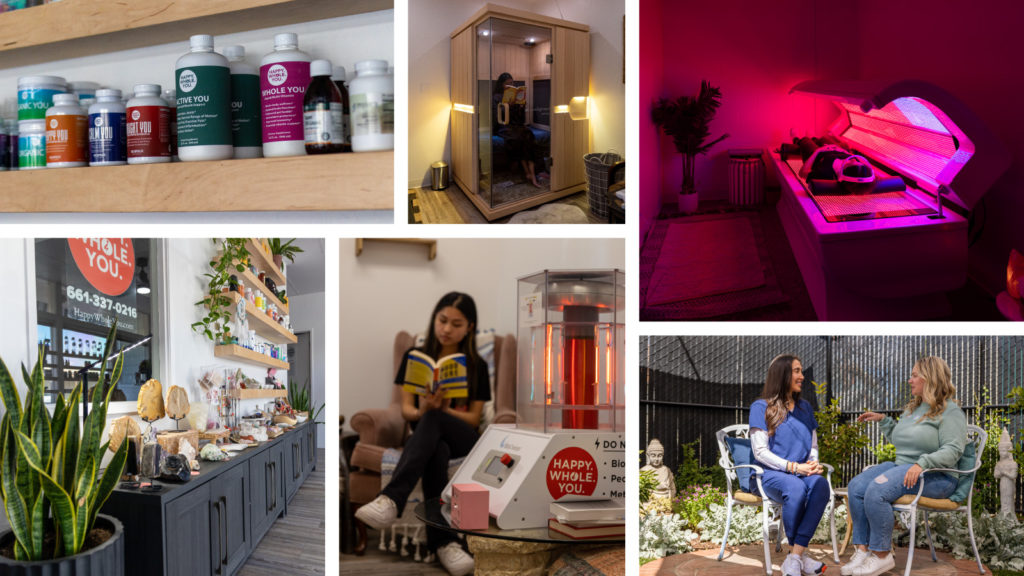 Getting to Know Anna Marie 
Anna Marie is a multifaceted professional in the field of holistic health and well-being. She holds a Board Certification as a Traditional Naturopath, is a brain health expert, ICF certified coach, certified master herbalist, licensed holistic health practitioner (GEHA) and a passionate advocate for living life to the fullest. Anna Marie is also an author, speaker, employee wellness consultant, QBEC mindset & wellbeing coach and a mom.
Her personal mission is to eliminate stigmas surrounding mental health and help people improve their brains and biology through lifestyle choices while rewiring their neural pathways using holistic modalities. Anna Marie's own journey to healing her brain after years of depression and challenges with dyslexia and ADHD is what inspired her to create Happy Whole You.
Anna Marie is also the formulator of her own line of brain nutraceuticals, which includes "Happy You, Calm You, & Bright You." She has also extended her nutraceutical line to include whole-food based liquid nutritional products. Additionally, she is the author of the self-improvement book "Stop Bullying Yourself!" a guide to greater health, wealth, happiness and success.
Anna Marie has undergone training from respected institutions such as the Gerson Institute, Amen Clinics, Integrative Nutrition Institute, Mindvalley, National Wellness Institute and Wellness Council of America (WELCOA). Her dedication to lifelong learning is a testament to her unwavering commitment to helping individuals achieve their highest potential in all areas of their lives.