Restaurateurs bring healthy, locally-sourced Latin cuisine to the community
By The Greater Bakersfield Chamber
Bakersfield is a city that boasts a rich history and a diverse community, and with the arrival of Mango Haus, it now has a new culinary destination. The Mango Haus is a fusion restaurant that marries wholesome Latin cuisine with locally sourced, fresh ingredients. It's also a place that embodies the values of community, sustainability and purpose.
Walking into Mango Haus, one can immediately sense the warmth and passion that Co-Owners Mao Granada and Johnny Diaz, have put into creating this space. The restaurant is located inside the Best Western Hill House on Truxtun Avenue, and as soon as you enter the lobby, the aroma of the food tantalizes your senses. The decor is colorful, and the vibe is relaxed yet vibrant.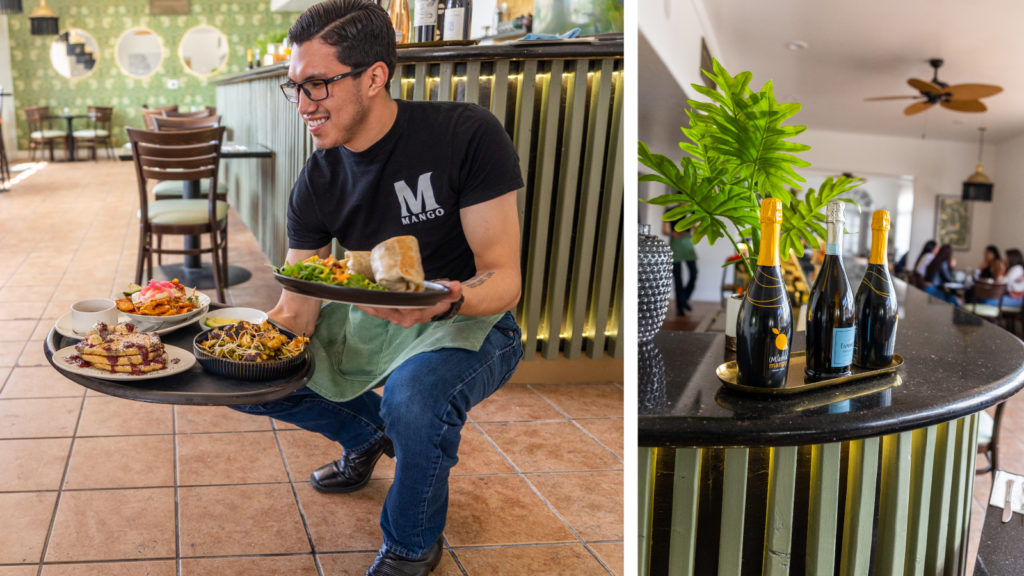 The Mango Haus defines its menu as "Nuevo Latino," and for Granada and Diaz, the menu reflects their community.
"Our menu is a reflection of who we are. It's hard to define Mango Haus," said Granada. "We are spicy."
"We are, we have flavor, we're colorful, controversial…" added Diaz. "new, we are upscale, we are everything."
Both Granada and Diaz grinned at each other. "Mango Haus doesn't have one identity, it has the spirit of the world."
Mango Haus aims to share real food with the city they love and serve dishes that nourish and inspire the people. Focusing on plant-positive and organic food, the restaurant hopes to keep the community healthy and happy from the inside out. Granada and Diaz believe that empathy, integrity, and discipline can create unbreakable bonds in a team and they intentionally work to transform their workplace into a community.
Mango Haus offers a menu built around locally sourced produce, using sustainable practices and organic ingredients whenever possible. As a vegan, Granada is passionate about bringing fresh, organic ingredients to the restaurant's dishes, and believes that plant-positive and organic food is better for both health and the environment.
"At Mango Haus, we are thoughtful about everything that goes into our food, our minds and bodies. We even choose to cook with high-quality anti-inflammatory oils like Avocado and Olive. When we're healthy within, it comes through on the outside," Granada said.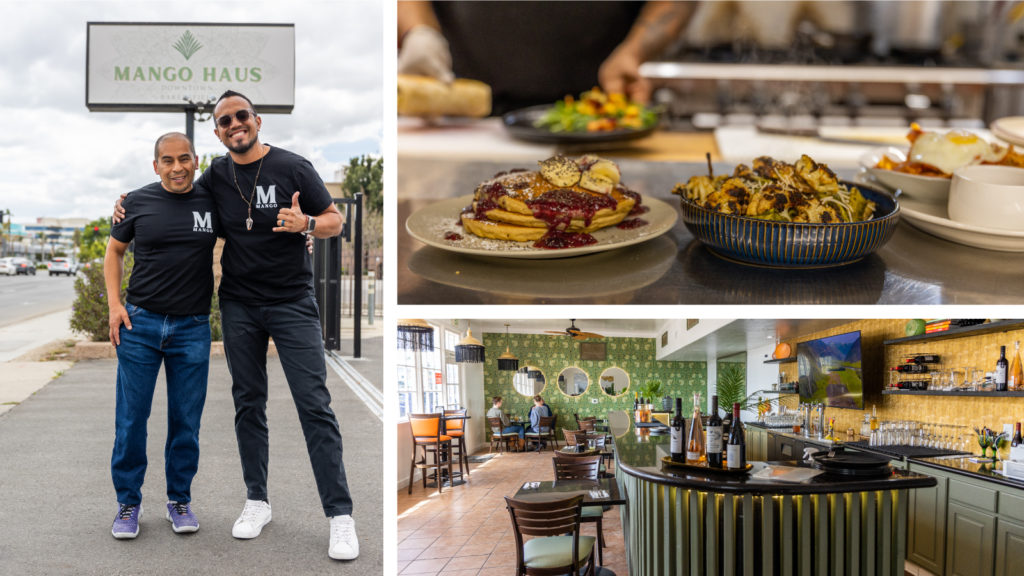 Currently serving breakfast and brunch in advance of a full menu, The Mango Haus highlights vegan and gluten-free dishes with classic options for those without food restrictions or allergies.
The restaurant's number one dish since opening its doors is the Chilaquiles Rojos, made with mango pico de gallo and homemade salsa served with frijoles de la olla. The dish has a sweet and savory twist that locals are raving about.
"We think that one of the reasons that the Chilaquiles are the biggest seller is that it's an international dish, it doesn't matter what Latin country you're in, you can probably order chilaquiles," said Diaz. "However, we have perfected them with our signature ingredient, mangos. They're not too greasy, too spicy or too salty."
The brunch menu also includes dishes like feel-good pancakes made with organic oats, brown rice, chia/hemp seeds, haus-made berry compote, and maple butter. Another popular item is the tortilla Española, a classic Spanish potato and egg omelet with caramelized onion, bell pepper, and zucchini, served with organic greens.
In a city where healthy eating options can be limited, The Mango Haus is a welcome addition, offering not only nutritious and delicious food but also a sense of community and purpose. The owners' commitment to locally sourced ingredients and sustainable practices is a testament to their dedication to both their customers and the environment.
Mango Haus is open from 8 a.m. to 3 p.m. Monday through Saturday and from 9 a.m. to 4 p.m. on Sunday. Visitors can check out the complete breakfast menu at mangohausbk.com. For the latest information, follow The Mango Haus on Instagram (@mangohaus_bk).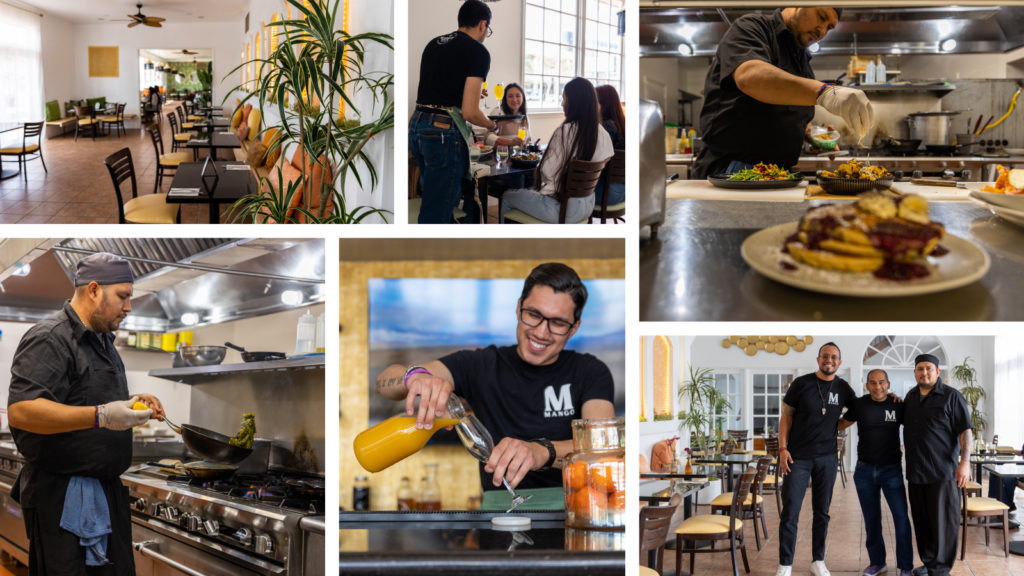 Haus Made Kindness
Mango Haus is more than just its menu. It's a place with a purpose, and its co-owners are on a mission to make a difference in their community. They believe that real food should be accessible to everyone, and their commitment to sustainability is a testament to their dedication to both their customers and the environment.
"We want to lift our community up, from our guests to the people we choose to work with and suppliers. We are excited to be part of a larger earth-friendly movement and resource our products locally as much as we can," Granada said.
The co-owners place a strong emphasis on creating a wholesome experience for their customers, which they consider just as important as the food itself. "The right ambiance and the right experience for our customers, that's as important as the food," Granada explained.
This emphasis on customer service is setting Mango Haus apart from other restaurants in the area. "I feel like that's what Bakersfield has needed," said Diaz. "Bakersfield as a small town that is getting bigger and bigger is becoming a big city, needs to create this kind of a standard."
The co-owners draw from their extensive experience in the restaurant industry to create a team that shares their passion for customer service. "We're trying to create a team that understands that our level of genuine customer service is how everyone is supposed to be treated when they go out for a meal," said Granada. "Customer service is the best. Not everyone has it like he was saying."
Creating a remarkable experience for their customers is the ultimate goal for Granada and Diaz. "We wanna be able to, at some point, partner with other amazing restaurants to create a better experience for every single person that comes to Bakersfield," Diaz explained. "The least that they deserve is to have an experience that actually feels remarkable."
The co-owners acknowledge that their concept may not be for everyone, but for those who appreciate the effort that goes into creating a wholesome experience, Mango Haus is a must-visit destination. "We understand that with our concept, what we do is not for everyone. It is for people who understand why the food takes a little bit longer, probably to make, why the product may look this way or the other way," said Granada.
They also revealed their recipe for success in keeping their restaurant full of people without officially launching or advertising. Which, as it turns out, is a combination of one key ingredient: Good People.
Granada explained, "We created Mango Haus in a way that allowed us to surround ourselves with great people and those people let other great people know that we were here. This restaurant is our little baby, we wanted to protect it as much as we could as we figured things out."
Their cautious approach paid off, as the restaurant quickly gained popularity through word of mouth. Diaz added, "People that come in for the first time, told us things like, ''Hey, I need to bring my family here. I need to bring my friends here.' And now, they're bringing their friends."